All the Email campaigns features you really need!
Unlimited Everything
Yes, it's true.
Once you Signup MailerPort, any plan You Buy, you get unlimited everything such as customers, email lists, subscribers, campaigns, stats, delivery servers, etc.
Detailed Reports
Each campaign will produce very detailed reports, see who opened or clicked your campaigns, how many times and from what location and device. You can also share your campaign reports.
Real-time email tracking
Mass mailing is the most effective advertising form on the Internet. Find out who is opening your newsletters and clicking on the links in your email messages.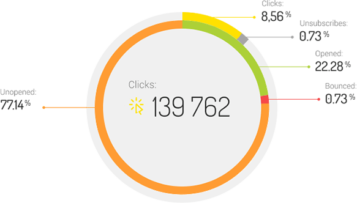 Great API System
MailerPort comes with a great API system that you can use for custom integration. You can use it to create subscribers, lists, campaigns, etc.
Delivery Servers
MailerPort integrates with all SMTP server types and also with services like: SparkPost, MailGun, Amazon SES, SendGrid, ElasticEmail, MailJet, etc. Whatever delivery method you need to use, most likely we have you covered.
CONSTANTLY UPDATED..!
MailerPort is used by thousands and we always listen to feedback and add features as our customers request them, which means the application is constantly updated with new features but also with bug fixes.
Dashboard
A simple and easy to access every feature with a click.
MailerPort dashboard is a comprehensive user interface and provides a complete view of all the components associated with the application.  It provides a menu to access top level features as well as insights to view overall performance of the email campaigns, number of subscribers, lists, pre-designed newsletter templates, recent logs such as sent campaigns, clicks rate, open rate, Bounce rate, unsubscribe rate, access to view/modify your MailerPort account, Price Plans, many more…
Create data driven lists
Using our list management does list building, manage unlimited lists and grow the key to your marketing success. While creating the list, you need to provide information such as General Data, Default Data, and Company Details. Also manage the list based on subscriber actions to the particular list.
Explore List Management
Improve your email marketing with professional, organized email list management from MailerPort.
Subscriber Management
We call this set of subscribers as List in MailerPort. No matter what ever you use any platform to run email campaigns, list management is very crucial to get to the inbox and continue conversations with your prospective and current customers/subscribers. You will be notified when a unsubscribe happens.
Segments
You can segment the list subscribers based on the custom fields defined in this list and you can also send email campaigns to segments only instead of sending to the whole list.
Custom Fields
Every list is been created with a set of default fields viz. Email, First Name, Last Name. You can customize this list at any point of time. You can add a text field, a drop-down, a multi-select, a date, a date time, a text area, a country, a state field as per your subscriber information and list requirement.
Pages and Forms
MailerPort provides various pages and forms to customize the list management and email reminder templates. You can customize these subscribe/unsubscribe forms, pending and confirmed subscribe/unsubscribe forms, Welcome emails and approvals on subscribe/unsubscribe.
These forms can be embedded to your website or blog.
Tools
Our list management offers few tools to back-up your contact lists and manage them more data driven. Here, importing of existing subscribers can be done in three types. Viz. CSV file import, text file import and SQL Database import.
You can also export the current subscribers to csv format and store in your hard drive or in a cloud storage for future use.
Copying subscribers among lists that are created under MailerPort is possible with "Copy" feature.
Create Remarkable Campaigns
Ah! Create sophisticated, automated email campaigns. Creating an email campaign using MailerPort is as easy as 1-2-3. Just follow the wizard, enter very few details, setup the campaign, edit the template/enter email body in the editor, and finally confirm the campaign schedule. That's it. You're done.
Groups
You might find it easier to manage your email campaigns if you group them together in groups that make more sense to you. You can later filter your campaigns by the groups you create here.
Custom tags
Create custom tags to be used inside campaigns, in addition to the regular tags available already for each campaign you create.
Auto-responder
Shift your business into overdrive. Set up a simple sequence of emails we call them autoresponders to be sent automatically on a schedule of your choosing based on subscriber actions on your campaigns. Keep your customers engaged by delivering custom drip campaigns– like a welcome series, product launch series, customer on boarding sequence, or even an online email course.
With Autoresponder, when you send targeted messages created with them in mind, your relationships get better (and so do your results).
Attachments
This is very important one!. You can send file as an attachment while sending emails to your subscribers. You are allowed to upload up to 25 attachments. Each attachment size must be lower than 25 MB. So far MailerPort supports file types such as: pdf, doc, docx, xls, xlsx, ppt, pptx, zip, rar, and jpg.
You can send Company Profiles, Product Brochures, Flyers, Circulars, etc.
Can't get enough?
Here are even more features!
Clean and modern design
Drag and drop newsletter building
Responsive design
Subscribe/Contact form builder
Compatible with all major email clients
Top Notch Support